Our story
We are crazy about chocolate. But chocolate is only REALLY tasty if you know that your choco cravings do not contribute to global warming.
Hands Off My Chocolate wants to make sustainable chocolate that doesn't let the earth melt. We make the most delicious plant-based chocolate and work together with cocoa farmers to combat deforestation.
Hands off my chocolate. Hands off our planet.
Innovative...

Round shaped
We always try to surprise you with our innovative chocolate. Our unique round bar is the only round shaped bar in the world. Thanks to this shape you can easily break off every piece of chocolate and they fit perfectly in your mouth. Did you know that the round shape also tastes sweeter than a square shape?
Innovative 

flavors
Our flavors are innovative and special, but at the same time recognizable and accessible and above all: very tasty. Want to try Vegan Caramel Seasalt, Cocoa Cookie or Peanut Bites?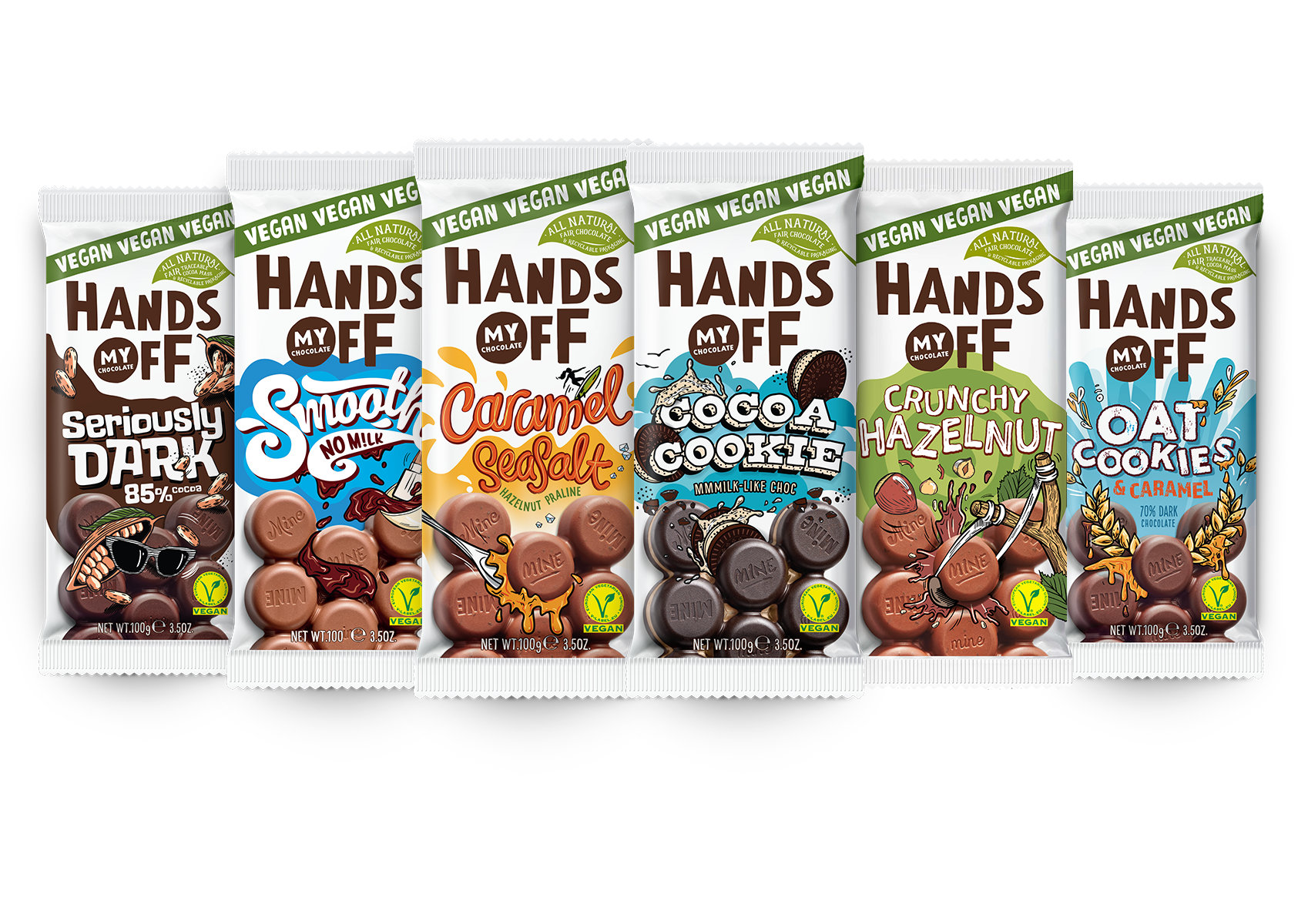 Vegan
With our vegan range we have taken the concept of "innovative" to a completely new level. We are the first chocolate brand to bring vegan (milk) chocolate to the regular chocolate shelf. There you will also find our vegan bars among all the milk chocolate bars, which are at least as tasty (tastier according to our test panel of more than 100 chocolate lovers), in the most popular flavors. Have you already tried our vegan caramel sea salt, for example? With this bar we give you an equally tasty and more sustainable alternative to this popular taste and that for the same price.

Fair...

Women empowerment
There is still a lot of inequality between men and women in Ghana and Ivory Coast. Women cocoa farmers are vastly outnumbered. We believe it is important to give women a voice and to increase their self-confidence and independence. Our program educates women in smart farming practices and financial management. They learn to grow cocoa and other crops on their own land. Thanks to these trainings and the proceeds from their land, the women can become financially independent and take better care of their families.

Traceerbare cacao
The cocoa mass in our dark bars is fully traceable. Through the Cocoa Horizons program, our beans are purchased directly from seven cooperatives in Ivory Coast and Ghana. The beans are kept separate from the farmer to the final station. As a result, we know exactly which farmers we work with and what progress these communities are making through the Cocoa Horizons program. 

Too delicious to share

Only the most delicious chocolate
One thing is of course very important: that our chocolate is so tasty that you simply do not want to share it. When we started our company, we melted over 800 chocolate bars from the market and tested them against our bars to find out which chocolate people liked best. Simply because we wanted to make sure that the chocolate we make is the tastiest you can find in the store.